Highlights of Santo Antão
Get the most out of your vacation in Santo Antão by visiting all the places of interest. Breathtaking nature, pristine coastlines and impressive views. The nature of Santo Antão is waiting with open arms for you to come and discover it all. Take beautiful walks through nature and be amazed by everything you see.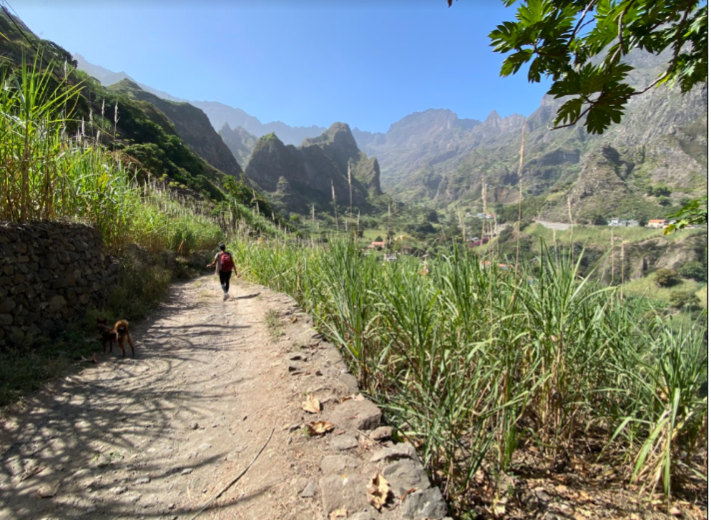 Fontainhas was named one of the most beautiful villages in the world by Lonely Planet, and we can't blame them. You practically end up in a fairy tale, this picturesque village could come straight out of a fairy tale movie. The colored houses on the edge of deep cliffs provide a beautiful view. This view is enhanced by the beautiful surroundings, the green mountains and rugged sea make it complete. If you want to discover this beautiful place, contact us to start this wonderful hike.
Explore the greenest valley to be found in the Cape Verde Islands. Here you will find the richest agriculture, bananas, mangoes, passion fruits and cane sugar. The one thing that makes this place so magical is the number of views you are presented with. After every turn, rock or cliff, you get a new view of this magical place. Not only can you enjoy the amazing views, you are also at the source of the local drink, Grogue. Visit a traditional sugar mill, where Grogue is distilled. Paul valley is full of breathtaking twists and turns, enjoy all the magnificent views, learn more about how the people live here, and be absorbed by the nature. If you want to discover this beautiful place, contact us to start this wonderful hike.
At the crater, there is usually a cloud that brings moisture to the ground, making it suitable for farming. Because of the height it could be colder on the highest point of the crater, but it is also the most beautiful part of it. On the rim, you can enjoy the breathtaking views over the agricultural area and its amazing nature.